About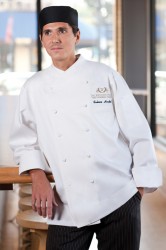 Welcome to Chef Works!
We are your top culinary apparel resource for hospitality and food service industry professionals worldwide. We manufacture expertly-designed, first rate clothing to properly outfit you and your staff from head to toe — all at a fraction of the cost.
Simply put, Chef Works is your one-stop shop that caters to all your culinary apparel needs.
Everything that comes out of our production line is made to perform and endure. No matter what the shift, task or kitchen, our culinary apparel will keep our wearers comfortable and happy all day and night long. We offer an extraordinary selection of finely crafted and stylish aprons, chef coats, jackets, pants, hats, and even footwear. And, we're now proudly featuring our form-fitting Women's Chef Collection, too!
All of us at Chef Works are devoted to providing unparalleled customer service. From large chains to mom-and-pop shops to the at-home culinary master, we value every one of our customers. With years of experience, we know how to give you the style you desire with the quality you deserve.
Take a look around. Discover your brand's exciting, new signature look. Our friendly and knowledgeable customer service team will help you make the right choice today!